I sat at work today, looking forward to watching the keynote by Tim Cook, CEO of Apple Inc.  I was very disappointed to  find out that it was blocked to all browsers except Safari…ie. to iOS and OSX. Apparently this isn't a new stance. Now I have a MacBook Pro at home which I use all the time for my digital photo editing…but at work I'm running Windows 8.
What was my experience trying to follow the announcements? I followed TechCrunch live blogging notes, which was actually surprisingly good. I also followed along on Twitter, where it was a mixed bag of apple fan boys and apple haters. I did "try" and follow Apples very unstable card like notification page which showed if you didn't have the stream.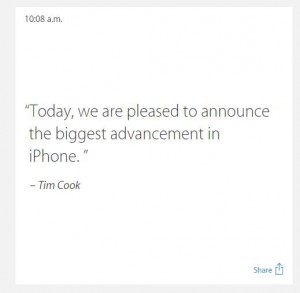 Which often showed this page:
Throughout the day I followed updates from various tech blogs and peoples opinions on Twitter that were also a very mixed bag of "no innovations" to "this thing is amazing".
When I got back tonight, I turned on my Apple TV and watched the 2 hour show on my 60″ TV in full HD. My first impression based on my consumption all day was TOTALLY adjusted once I watched the whole thing…regardless of the comments throughout the day.
If you haven't watched the presentation…I highly recommend you do. Hats off to the Apple crew, they certainly do know how to put on a show and present an amazing set of products! As a marketer at Microsoft, there is a lot to learn from these guys in Cupertino.
It's a great lesson for Apple to invest the money in the infrastructure to stream the live announcement to everyone…regardless what platform they are using to ensure they control the message.
Here are some things that I thought were very impressive. When I asked the fan boys "what was impressive" they didn't mention on my Facebook threads so I wasn't aware:
Metal – the game demonstration graphics were very impressive…i'm sure it's going to kill your battery life, but certainly a big market out there for this. I'm not a big gamer at all so not a killer feature for me.
Camera advancements – although its only a 8MP camera, the image resolution is amazing. The photo samples they showed were amazing, as someone who loves photography. I'm not sure how this is technically different from Nokia Lumia 1020 40MP camera, but producing a 40Mb file can't be bad! I do miss my 1020 camera, now having a giant 1520 phablet.
Apple Pay – so the Apple haters were chiming on about NFC being available on Google Wallet for a while now…but in app purchases and the security around this with banks was very impressive.
Apple Watch Dial – the dial is extremely natural and very Johnny Ive in being very much like the traditional watch dial.
Apple Watch straps – the amount of customizations available also make this a lot more flexible than others on the market.
Apple Watch Quick Board – the intelligence in quick replies based on the message that was sent to you was a nice touch for the watch.
Apple Watch notifications – all the support from major app vendors is very impressive. Twitter went nuts on opening the hotel room door by waving it in from of W Hotels. Going to be funny if your battery runs out on the device…no details on battery other than "a day charge".
Apple Watch compatibility – the fact it'll support 5s, 5c and 5 is simply amazing! That's a lot of existing devices that will support it.
Health and Fitness – I was impressed with the depth of the integration. The hype that they just wiped out FitBit etc. is certainly not accurate when the watch "starts at $350″. It'll certainly hurt the Garmin type products in the same price range.
The one thing that boggles me with smart watches is that it is tied to the phone, much like Google Android Wear. I always saw those Samsung ads where the hand held the smart phone and was twisted to look at the watch face rather than just use the phone! It'll be interesting to see how people use this form factor. I'm sure it'll be a lot less awkward than Google Glass!
Apple were serious innovators with the  Apple II, iMac, iPod, iPhone and iPad. Apple may not always be the first to market these days, but being first isn't always the best (Microsoft SPOT watches). You can see with the watch they've really thought about this.
I'm guessing they'll be some comments on this post…what were your most impressive features? and for those Apple Haters….be nice